Join KASKASERO and friends on Tuesday Jan 21, 2020 in raising funds to buy medicines for the growing number of evacuees in neighboring evacuation centers here in different "barangays" of Lipa.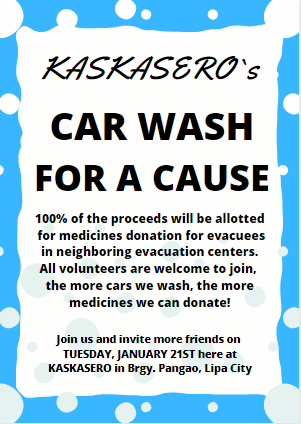 100% of all carwash earnings for the day will be allocated for buying medicines which are to be donated to the evacuation centers.
To ensure complete transparency, we will be tracking each car wash transaction payments on a big white board that everyone can see. This board will be visible to everyone!
KASKASERO's team will lead the efforts of washing cars. Volunteers are welcome to help out!
In order to provide faster service and to wash more cars leading to more money that can be spent for medicines, we are also encouraging anyone to help us as volunteers.

Volunteers can help out in many ways - helping dry out cars, help in directing cars from entrance to wash area, parking, getting vehicle out of service area, and even just to show support by cheering up other volunteers!
The proof of money earned and the receipts for medicines will also be shared to everyone. We all helped here, we should all see the results of our efforts!
Spread the word! Tell all car owners that you know to have their cars washed on Tuesday, Jan 21, 2020 at KASKASERO in Pangao, Lipa City